Sweet Potato-Coconut Casserole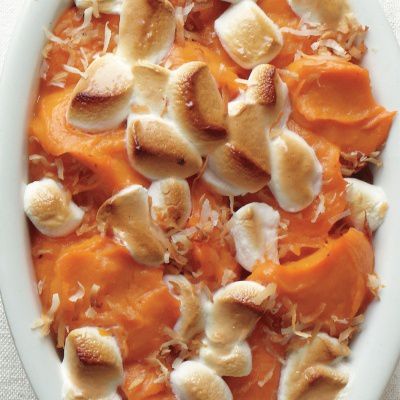 From Martha Stewart Living Omnimedia It may look like a traditional sweet potato casserole at first glance, but this version gets richness from coconut milk instead of cream, and brightness from fresh lime juice.
Be the first to rate this recipe Recipe Photos Reviews Save this recipe Add ingredients to my shopping list Submit your version
Nutritional Information Calories -- Total Fat -- Saturated Fat -- Cholesterol -- Sodium -- Total Carbohydrate -- Dietary Fiber -- Sugars -- Protein -- Calcium -- sweet potato coconut casserole Straight Wigs
Courtesy of Martha Stewart
Serves: 8
Total Time: 1 hr
Prep Time: 30 min
Oven Temp: 375
Ingredients U.S. Metric Conversion chart
2 1/2 pound(s) (about 5) sweet potatoes, hong kong travel deals peeled and cut into 1-inch pieces Coarse salt 3/4 cup(s) coconut milk 1/2 teaspoon(s) grated lime zest 2 teaspoon(s) lime juice 1 1/4 cup(s) miniature marshmallows 2 tablespoon(s) sweetened shredded coconut
Directions
Preheat oven to 375 degrees F. In a large pot, cover sweet potatoes with cold salted water by 1 inch and bring to a boil. Reduce to a rapid simmer and cook until tender, 10 to 12 minutes. Drain potatoes in a colander and let sit 5 minutes, then transfer thermal tea mug to a food processor and process until smooth. Add coconut milk and lime zest and juice; process until combined. Transfer mixture to a 2-quart baking dish. Top with marshmallows and coconut and bake until toasted and golden, about 15 minutes.