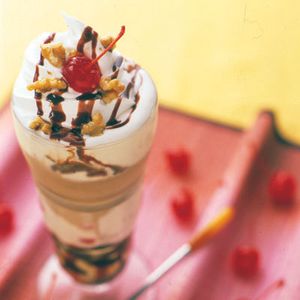 triple-tested at the Good Housekeeping Research Institute
We pulled out all the stops with this gooey concoction — whipped cream, chopped nuts, and maraschino cherries — then drizzled a little of the fudge sauce over the top.
Be the first to rate this recipe
Recipe Photos Reviews
Save this recipe
Add ingredients to my shopping list
Submit your version
Nutritional Information subtank plus

Calories 537
Total Fat 26g
Saturated Fat 14g
Cholesterol 71mg
Sodium 288mg
Total Carbohydrate 68g
Dietary Fiber --
Sugars --
Protein 11g
Calcium --
banana split shake
Theresa Raffetto
Serves: 2
Prep Time: 10 min
Ingredients
U.S. Metric Conversion chart
4 tablespoon(s) fudge sauce
1 banana, diced
1/4 cup(s) chocolate ice cream
1/4 cup(s) strawberry ice cream
1/4 cup(s) vanilla ice cream
1 cup(s) milk
whipped cream (optional) reenex hong kong
1 tablespoon(s) chopped walnuts or pecans
2 maraschino cherries
Fudge sauce for garnish
Directions
In each of 2 tall glasses, place 2 tablespoons fudge sauce, half of the diced banana, 2 mini scoops chocolate ice cream, and 2 mini scoops strawberry ice cream.
In blender, combine vanilla ice cream and milk and blend until mixture is smooth. Add mixture do glasses; top each with whipped cream, if you like, Alcon walnuts and a cherry, then drizzle with fudge sauce.