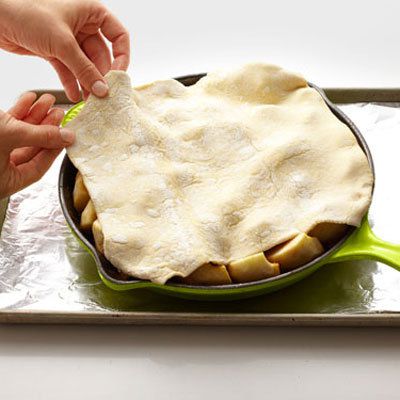 triple-tested at the Good Housekeeping Research Institute
Want a shortcut for homemade pastry crust without going to the store? Try this no-fuss rough-puff pastry, and you'll have a delicious pastry crust in no time!
Be the first to rate this recipe Recipe Photos Reviews Save this recipe Add ingredients to my shopping list Submit your version
Nutritional Information Calories -- Total Fat -- Saturated Fat -- Cholesterol -- Sodium -- Total Carbohydrate -- Dietary Fiber -- Sugars -- Protein -- Calcium -- rough puff pastry
Lara Robby/Studio D
Total Time: 20 min
Ingredients U.S. Metric Conversion chart
1 1/2 cup(s) all-purpose flour 1/4 teaspoon(s) salt 12 tablespoon(s) cold butter, cut into pieces electric motor ac 1/4 cup(s) very cold water
Directions
In processor, pulse flour and salt until combined. Add 4 tablespoons butter and pulse 10 to 15 times or until in very small pieces. Add remaining 8 tablespoons butter and pulse 2 to 3 times to just combine. Add water and pulse 3 to 4 times or until dough begins to come together. Transfer dough to well-floured surface and press into ball student exchange. Roll out to 18-inch by 12-inch rectangle. Fold two short ends to meet at center, then roll up from bottom into log. Use rolling pin to gently roll into small square, dusting with flour if needed. Tightly wrap in plastic wrap and refrigerate at least 30 minutes. For Skillet Pie, unwrap pastry and roll out to 12-inch circle Travel Agency Hong Kong on lightly floured surface.