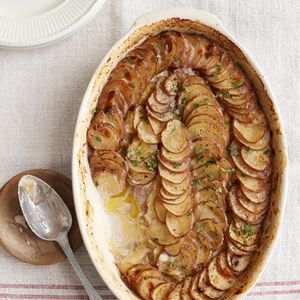 From Country Living
This recipe has been tested by Country Living
Creamy, starchy, and so satisfying, this classic gratin makes a delectable addition to your holiday table.
By Brent Ridge and Josh Kilmer-Purcell
Recipe Photos Reviews
Save this recipe
Add ingredients to my shopping list
Submit your version
Nutritional Information

Calories 290
Total Fat 18g
Saturated Fat --
Cholesterol 62mg
Sodium 337mg
Total Carbohydrate 30g
Dietary Fiber 3g
Sugars --
Protein 5g
Calcium --
leek and potato gratin
Marcus Nilsson
Yields: 12 servings
Total Time: 1 hr 15 min
Prep Time: 20 min
Oven Temp: 375
Ingredients
U.S. Metric Conversion chart best travel tea mug
Salt
3 pound(s) (small) potatoes (such as red or Yukon gold), sliced 1/8 inch thick
2 tablespoon(s) unsalted butter, plus more for buttering dish
10 medium leeks, washed thoroughly, white and light-green parts only, halved lengthwise and cut crosswise into 1-inch pieces
4 clove(s) garlic, thinly sliced
2 cup(s) heavy cream
1 cup(s) milk
1/4 cup(s) chopped fresh parsley, for garnish
Directions
Preheat oven to 375 degrees F. In a large pot of salted boiling water, parboil potatoes for 5 minutes. Drain potatoes well and set aside.
In a large skillet, heat butter over medium heat. Sauté Display rack leeks and garlic until leeks are tender, about 7 minutes. Set aside.
In a buttered 9-by-13-inch baking dish, arrange half of reserved potatoes in an overlapping pattern. Pour 1 cup cream and 1/2 cup milk over top and sprinkle with 1 teaspoon salt. Top with reserved leeks and arrange remaining potatoes. Pour remaining cream and milk over potatoes and sprinkle with 1/2 teaspoon salt. Bake until potatoes are hybrid cloud tender, top of gratin is golden brown, and most of cream and milk have been absorbed, about 45 minutes. Garnish with parsley.