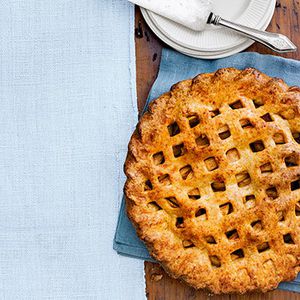 This recipe has been tested by Country Living
Lighten Up! Replace the filling's granulated sugar with 1/4 cup brown sugar and 2 tablespoons honey, and sub in low-fat Cheddar. Total savings? 72 calories and 8 grams of fat per serving.
By Carrie Purcell
Be the first to rate this recipe
Recipe Photos Reviews
Save this recipe
Add ingredients to my shopping list
Submit your version
Nutritional Information

Calories 552
Total Fat 28g
Saturated Fat --
Cholesterol 99mg
Sodium 335mg
Total Carbohydrate 65g
Dietary Fiber 4g
Sugars --
Protein 13g
Calcium --
cheddar apple pie
Andrew Purcell
Yields: 8 slices
Total Time: 1 hr 50 min
Prep Time: 40 min
Oven Temp: 400
Ingredients
U.S. Metric Conversion chart
2 3/4 cup(s) all-purpose flour, plus more for work surface
1/2 cup(s) sugar, plus 2 tablespoons
2 tablespoon(s) sugar
1/2 teaspoon(s) salt
8 ounce(s) (about 2 cups) sharp Cheddar cheese, shredded
1 1/2 stick(s) butter, cold and cut into small pieces
1 teaspoon(s) ground cinnamon
4 Granny Smith apples, peeled, cored, and thinly sliced
1 large egg, beaten with 1 tablespoon water
Directions
In a food processor, pulse 2 1/2 cups flour, 2 tablespoons sugar, and salt to combine. Add cheese and pulse to coat. Add butter and pulse until the mixture resembles coarse meal. Add 1/3 to 1/2 cup cold water, 1 tablespoon at a time, until dough begins to come together. Transfer dough to a floured surface and knead a couple times. Divide dough and pat into 2 disks. Wrap each disk tightly with plastic wrap and refrigerate for 1 hour.
Roll out each dough disk between 2 sheets of parchment paper to 1/8-inch thickness. Transfer one rolled-out disk to a 9-inch pie plate; lightly press against plate, pierce with a fork all over, and refrigerate. Meanwhile, transfer the second rolled-out disk to a floured surface. Using a 1/2-inch square cookie cutter, cut out a lattice as shown, leaving a 1/2-inch border. Transfer to a baking sheet and refrigerate for 1 hour.
Preheat oven to 400 degrees F. Meanwhile, cover the pie plate of prepared dough with foil, leaving a bit of overhang, and add pie weights or dried beans for weights. Bake for 15 minutes, then remove the foil and weights, and bake about 5 more minutes. Transfer to a wire rack to cool. Meanwhile, in a large bowl, combine cinnamon and remaining flour and sugar; add apples and toss to coat. Transfer to prepared pie plate, then top with reserved lattice. Crimp edges to seal, and brush the top with egg wash. Place the pie plate on a baking sheet and bake on the middle rack until golden, 50 to 60 minutes. Cover edge of crust with foil if it browns too quickly. Let pie cool for at least 2 hours before serving.